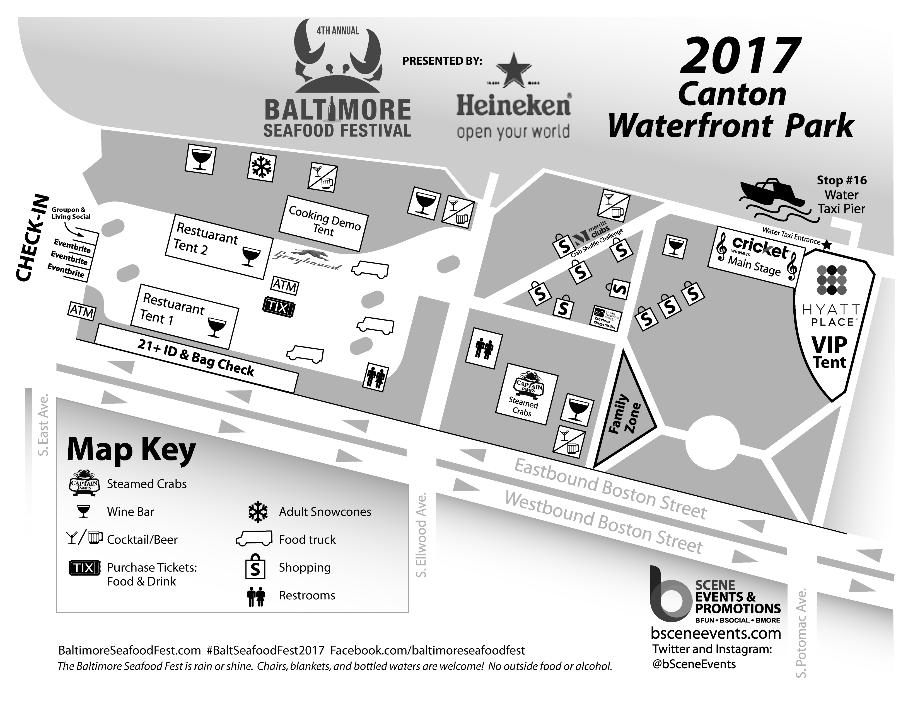 FAQ
Saturday, September 16, 2016 - 12pm to 7pm
Canton Waterfront Park, 3001 Boston Street Baltimore, MD 21224
Gates –We will be begin ID & Bag check at 11:45am. Please have your ID out and ready. There will be 6,000+ people and we thank you in advance for your patience.
***VIP ticket holders may enter an hour early at 11am
Groupon & Living Social– If you purchased a General Admission ticket, please bring your printed tickets and a valid ID. Once inside, you can purchase food and beverage tickets at the main ticket booth.
Eventbrite Ticket Holders – Please print out your tickets or have them pulled up on your phone. We do have the ability to look up the tickets by last name too. Please bring a valid ID. There is a different line for each type of ticket. Please be sure to enter the correct line. We will have a table for each ticket type (General Admission, Food & Drink, B'more Crabby, and VIP). Please look at signs before entering a line. If you purchased two different types of tickets, please go to the appropriate line and send your guest to the appropriate line.
VIP Ticket Holders – NEW this year – VIP ticket holders will be able to enter at 11am. The VIP tent will be open at 11am where there will be mimosas, assorted bagels, pastries, and fruit. Please see the event map to locate the VIP tent. Guests will be allowed to order one drink at a time at the open bar in the VIP tent. There is community seating in the VIP area. The seating is for adult ticket holders only (children may be in the tent, but we have one seat for each paying VIP ticket holder). Your VIP open bar wristband is only valid in the VIP tent. There will be beer, wine, signature cocktails, and bottled water available. Your 10 food tickets and half dozen crab tickets will be in your VIP envelope. Captain James will be steaming crabs (see map for location).
Food & Drink Tickets – The restaurants and bars do not accept cash. Tickets must be purchased in order to eat and drink. There is one main ticket booth (see attached map). We HIGHLY recommend purchasing a strip of 20 to 40 tickets at once. The food and drink tickets are interchangeable and can be used at restaurants, food trucks, and any of the b Scene wine stations, and cocktail/ beer stations. You may pay via cash or credit card. Please note that a $1.00 service charge will be added for all credit card transactions. There will be ATM's located inside the event. *Drink and food tickets are non-refundable.
Broken Glasses – Please be very careful with your glass! If you require a replacement, there will be a fee of $5 (while supplies last). Please go to the Food and Drink ticket booth and our management team will assist you.
Food Options and Pricing –Restaurants will be pricing their small plates between 1 and 7 tickets (each ticket = $1). This year, there will also be large plates available in addition to the small plates. Captain James will be steaming crabs onsite (while supplies last).
Drink Options and Pricing – We will have 4 signature cocktails, adult snow cones, 40+ wines, and 5 beers offered at the event.
Water – 3 Tickets
Beer – 5 Tickets
Wine & Adult Snow cones – 7 Tickets
Cocktails – 8 Tickets
Cash – We advise that you bring cash to the event. This will make it easier to purchase food and drink tickets. There will be two ATM machines inside the event if you need additional cash.
Bag Check – We will have a bag check area prior to the event entrance – please see list of permitted items and non-permitted items.
Items Permitted – Guests will be allowed to bring lawn chairs, blankets, card tables, personal umbrellas, sealed bottled waters and sunscreen.
Items NOT permitted – coolers, tents, beach umbrellas, outside alcohol, outside food (baby food/ formula will be approved), weapons, and illegal substances.
Pets – while pets are technically allowed, it is going to be hot and crowded, so we do advise owners to leave their pets at home. Pets are also not allowed within 50 feet of the restaurant tents per the Baltimore City Health Department.
Parking – We have partnered with Parking Panda and you may reserve a parking space in advance. Spaces are limited and you must pay in advance to reserve your spot. Details at baltimoreseafoodfest.com under parking. There are also street spots available. We also recommend walking, taking the water taxi, bicycling, or taking an uber. Use promo code UBERHARBOR to save on your first ride.
Shopping – We have a lot of great vendors! Be sure to check them out!
Cricket Wireless Main Stage Schedule –
11:30am to 1pm – The Players Band
1:30pm to 3pm – Kelly Bell Band
3:30pm to 3pm – Strykers' Posse
5:30pm to 7pm – Sons of Pirates
Cooking Demos – We have several great demos lined up. Check the schedule at baltimoreseafoodfest.com.
Hotel Accommodations – Traveling to Baltimore to attend the 4th Annual Baltimore Seafood Fest? The Hyatt Place Baltimore Inner Harbor is offering rooms for $189/night and each room will come with 2 General Admission tickets to the Baltimore Seafood Fest ($36 value) when you book through the special link. Enjoy a complimentary hot breakfast in the morning, indoor pool and be within walking distance of Harbor East, Fells Point, Little Italy and the Inner Harbor.
Booking link – https://baltimoreinnerharbor.place.hyatt.com/bwizhbsea2017.html
Green Mountain Energy - Get Charged up at the Green Mountain Energy Charging Station – Charge up your cell phones at the solar powered charging station (see map for location).
Merritt Clubs – Be sure to stop by the Merritt Live Fitness Challenge Booth where you can show off your best crab shuffle and be entered to win a FREE 3 month membership.
Be Social! – twitter and instagram @bsceneevents and facebook.com/baltimoreseafoodfest Don't forget to use #BaltSeafoodFest2017 when posting!
Drink Responsibly – Everyone 21+ must have a valid hand stamp in order to drink. Please drink responsibly. Bartenders will not be permitted to serve any intoxicated guests.
We love Non-Profits - A portion of event proceeds will benefit City Fam, Baltimore Design School, and Hampstead Hill Academy PTO.
Weather – The event is rain or shine!
Questions – Our management team will be ready to assist guests and will be at the front gate.
Cheers!
Beth Laverick
Owner
Beth@BSceneEvents.com
(410) 409-7123